Staff
P.J. Soteriades,
Camp Director
P. J. Soteriades just completed her 16th season as Head Field Hockey Coach at Denison University. During that time she has guided the Big Red to 13 top four finishes in the conference, an NCAC Championship in 2000, 2011 and 2013, and an appearances in the NCAA Division III Tournament. In addition to being named 2011 NCAC Coach of the Year, she has coached numerous individuals that have received high honors. Over the last 16 years, the Big Red has placed 37 players on the All-NCAC First-Team. Soteriades coached the NCAC Offensive Player of the Year in 2002, 2003 and 2005, and the Defensive player of the year in 2006 and 2011. Under her watch six Big Red Freshman have been named as the conference Newcomer of the Year (2000, 2001, 2002, 2009, 2010, 2015).

A 2000 graduate of Ohio University, Soteriades was a three-year member of the Division I Field Hockey Program after playing her freshman season at Ball State University. During her senior year at Ohio she served as a team captain.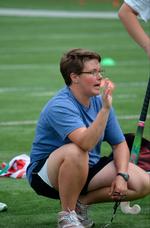 Third year Head Coach for New Albany High School, Nikki Wimsatt coached the fifth year varsity program and the programs best record to date. Prior to coaching at New Albany, Nikki served as acting head field hockey coach for the 2013 season for the Denison Big Red while her sister P.J. was out on maternity leave. After compiling a 17-2 record and a share of the programs ninth NCAC regular season title, she was voted NCAC Coach of the Year.
Wimsatt spent four years as an assistant under her mother, Marge Redmond, at Ohio Wesleyan University. Nikki began her coaching career at Upper Arlington High School in Columbus, Ohio where she coached the Golden Bears for nine seasons. Several of her players went on to play at the collegiate level. During that time she was also co-chair for the Senior All-Star Field Hockey game for nine years.
A 1996 graduate of Ohio University, Wimsatt was a four-year starter on the Bobcat field hockey team, a three time Academic All American, and served as captain her senior year. She graduated with a degree in special education.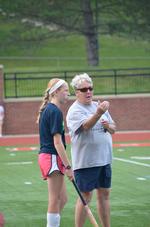 Marge Redmond has been a fixture in the field hockey community having coached nearly 3 decades. Redmond served as field hockey coach for fifteen years at Ohio Wesleyan University and also served as an assistant women's lacrosse coach during that time. While at Ohio Wesleyan the Bishops advanced to the NCAC tournament 3 times in a 6-year span under Redmond. In 2009, the Bishops finished with a 10-9 record and advanced to the championship game of the NCAC tournament for the first time. The 2008 Bishops finished with a 12-7 record, their highest season win total under Redmond, and made their first NCAC tournament appearance. In 2007, Redmond guided the Bishops to a 10-7 record, an improvement of 6 games, and shared NCAC Coach of the Year honors. She also earned NCAC Coach of the Year honors in women's lacrosse in 2008, stepping in on an interim basis and guiding Ohio Wesleyan to the NCAC championship and an NCAA Division III playoff appearance.

Prior to coaching the Bishiops, Redmond was head field hockey coach at Upper Arlington High School from 1984-97. From 1997-99, she was a physical education teacher in grades K-8 in the Columbus City school system.

Redmond's Upper Arlington teams finished as state runner-up once, won a regional title and compiled 8 district runner-up finishes. While coaching at Upper Arlington, she also served as regional selector for the high school All-America program.

Off the field, she was a founding member of the Ohio Field Hockey Coaches Association, she founded the first and coordinated the next 11 Senior All-Star Field Hockey matches, she has served as Regional Futures Field Hockey Program coach since 1986 and was the regional site director for the U.S. Field Hockey Association Futures Program from 1997-2000. Through varied experiences at camps and clinics, she has coached field hockey in 7 different states. Redmond's coaching background also includes experience in track & field, diving and softball.

Redmond is a 1971 graduate of Ohio University, where she played field hockey, basketball, tennis and softball and was a member of the Dean's List. She received her master's degree in sport education from Ashland University in 2003.

Redmond also is a graduate of the NCAA Women Coaches Academy, a program providing skills training for women coaches who are ready and willing to increase their individual effectiveness by learning advanced skills and strategies that directly affect their personal and team success. She has continued her professional development by graduating from Dimension II of the Women Coaches Academy, a program that gives women coaches the opportunity to learn about coaching strategies and methods, communication skills, and other issues such as Title IX and the legal issues of coaching.
Karla Dixon a 2014 graduate of Denison University was a four year starter and team captain for the Big Red. Karla earned first-team All-NCAC honors three straight seasons and was a two time All-Great Lakes Region selection. During her senior campagin Dixon was selected to play in the NFHCA Senior All-Star Game in Virginia Beach, Va. and was a NCAA Postgraduate Scholarship nominee. While at Denison Karla was a Mathematics and economics double major and was honored at Denison Athletics Top-50 banquet in 2012, 2013 and 2014. Karla served as president of DSAAC, the Denison Student-Athlete Advisory Council and was a astudent assistant in the Denison sports information office.
Karla has assisted the New Albany High School Field Hockey program for the past two seasons and has coached at Stick to Stick Field Hockey Camp for the past 4 years.
Additional Coaching Staff,
Additional current and former collegiate players will be joining the staff at Stick to Stick this summer